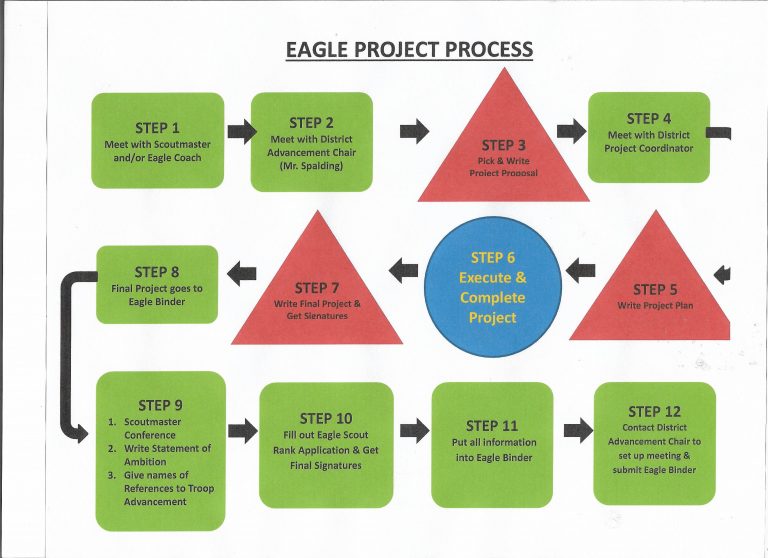 ALL Eagle Projects MUST utilize these checklists & questionnaire
These

2 forms below

are NOT required but recommended to be utilized.
Instructions for Processing Eagle Scout Rank Application during COVID-19
Because of the current COVID-19 restrictions, the Council office in Pleasant Hill is closed. In order to get Eagle Scout Rank Applications ("Application") verified and signed off by the Council office, please follow these steps:
Application must be completed legibly. Make sure the following signatures on Page 2 are completed with dates and phone numbers:

Scout Applicant
Unit Leader
Unit Committee Chair
Scan all pages of the completed Application and send it to the following email address for the Council's review and verification of Scout registration and Merit Badges completed: [email protected]. Once the Council has verified the Scout's record, the signed Application will be returned to the Scout via email.
Next, contact Mr. Spalding, Muir District Advancement Chair, to schedule an appointment to submit completed Application and Eagle Book for his review. Contact him at (925) 586-9136 or [email protected] and copy another adult (such as your Eagle Coach, Unit leader, or parent) if emailing. After he has reviewed the book, he will return it to the Scout for scanning and submission to Mrs. Hansen to set up Eagle Board of Review.
Eagle Board of Review procedure (virtual option)
Eagle Boards of Review can be conducted via Zoom whenever meeting in-person is not possible. The entire Eagle Book must be scanned and emailed to Mrs. Sherri Ruhl, Eagle Board Chair, at [email protected] and copy another adult (such as your Eagle Coach, Unit leader, or parent) if emailing.
Mrs. Ruhl requests that the Eagle Book be sent as Adobe Acrobat PDF files divided as follows: (1) Application, (2) Statement of Ambition, Proposal and Plan, (3) Report and (4) Photos (if necessary due to number of photos, divide into multiple files). Contact Mrs. Ruhl via email if you have any questions about this step.
Mrs. Ruhl will then contact the Scout to schedule the Eagle Board of Review.
Documents to use and print out
For meeting with Mr. Spalding:
Eagle Extensions (nearing age 18)